Articles
>
Networking
Windows 8 Unidentified Network (multiple network adapters)
Last Updated: 5/6/16
Symptoms:
Your domain joined PC keeps saying the network is unidentified and setting your network location to public. This makes the pubic firewall profile active and all of your firewall behavior is now undesireable.
I spent too much time on this. Here is what I found:
Resolution:
- I had multiple network adapters (virtual adapters from VMware workstion player 12)
- Go to your network adapter properties of your additional network adapters (not the primary one) and uncheck "Client For Microsoft Networks"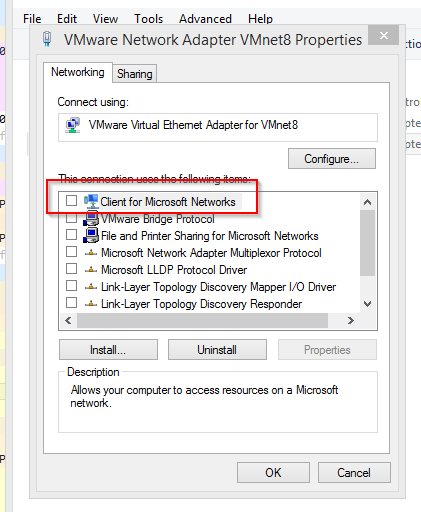 Keywords: windows 7, windows 8, unidentified network, identifying, public network location, firewall, profile, vmware player